Theory of Change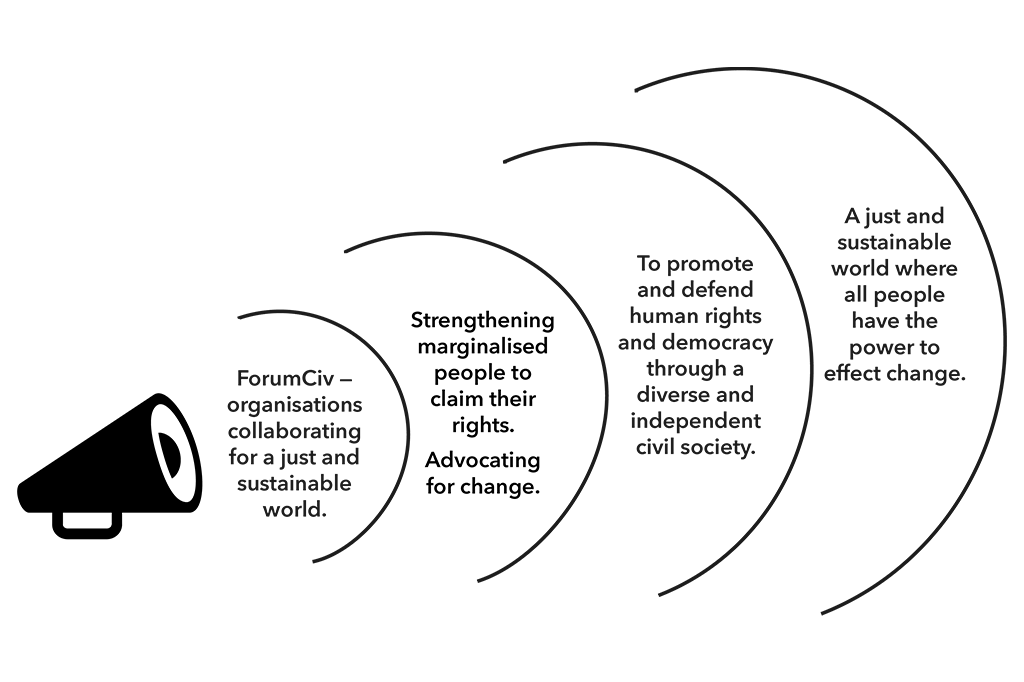 Who we are
ForumCiv is a Swedish member-based civil society organization working on a global scale. Our purpose is to strengthen marginalised people around the world who organize to claim their rights and to advocate for changes that contribute to a just and sustainable world.
We are a platform for exchange of experiences and advocacy. We are an influential voice in development cooperation and champion the role of civil society in promoting democracy and fulfilling human rights. Civil society empowers people to change their lives and their communities at a local, regional, national and global level.
How we work
We work in partnership with civil society and other strategic actors. We believe that partnerships based on cooperation between different actors, through networks, coalitions and alliances, can lead to social change on both an individual and structural level.
By working together with members and local partner organizations we can contribute and learn from each other. We do this by making the work of the many diverse organizations, with which we work, more visible, irrespective of thematic or geographical boundaries. A legitimate and diverse civil society can together establish strategic partnerships and advocate for society-wide change, as well as monitor those in power and promote dialogue for change.
We use a right-based approach as a way to challenge unjust power structures and discriminatory norms, caused by a multitude of civil, political, social, cultural and economic injustices. By actively working with non-discrimination, popular participation and accountability, we can address the barriers and root causes that prevent people from having their rights fulfilled. Rightsholders are at the centre of development and should therefore actively participate in decisions that affect them.
A right-based approach also requires a thorough contextual analysis to understand the power structures and driving factors against human rights and sustainable development. The contextual analysis must consider factors such as gender, conflict, climate change and environmental impact because these perspectives are crucial in order to contribute to long-lasting change and a just and sustainable world.
The Change
We work towards a just and sustainable world where all people have the power to effect change. When people jointly claim their rights by participating and developing democracy there is a higher possibility that common resources are distributed more fairly, and poverty is reduced. We believe that a diverse civil society is an essential part of giving a wide range of groups a voice and become an active force to contribute to sustainable development