Reshaping the future: AkiraChix innovative approach transforming lives
Success story
-
2017-10-11
The advance of technology, innovation and the digital revolution in the world may mask the high untapped access to technology by women.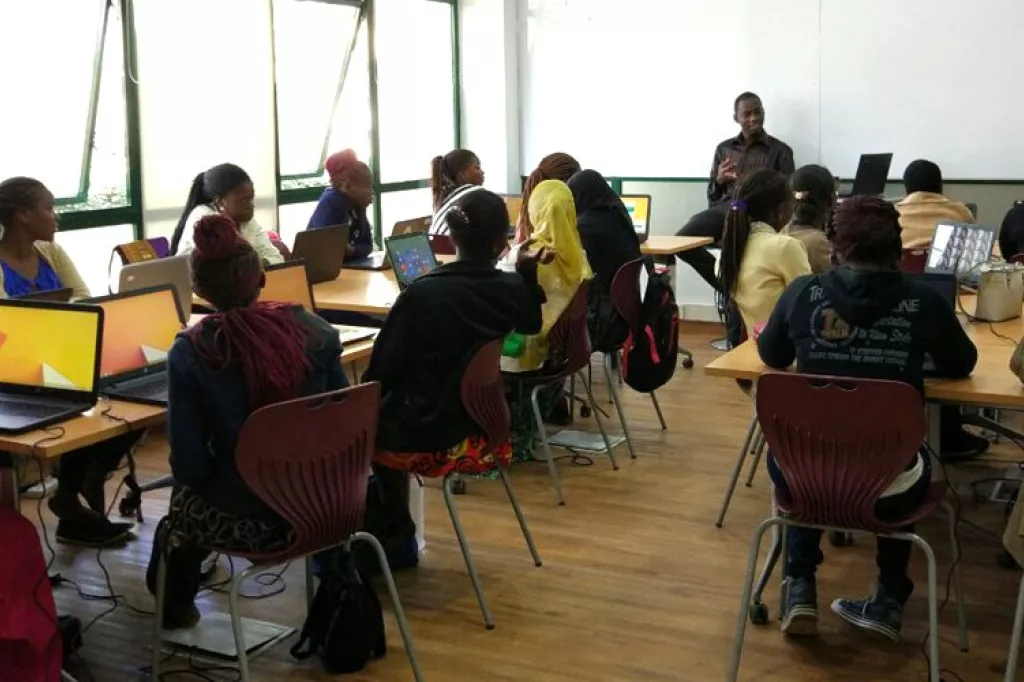 Women, especially in Africa, are vastly underrepresented in the technology field. Barriers such as poverty, limited access to finance, illiteracy, low and/or lack of connectivity, cultural limitations and discrimination when getting training and education contribute greatly to the rising digital divide.
Restricted access to information, communication and technology opportunities not only limits women's chances for economic equality but also deprives the marketplace of much-needed talent, pathways for innovation and financial returns. As the world continues to digitize and transform, these inequalities persist and threaten to deepen the gender divide.  
Concerned by this context and driven by the desire to give back to the community, a group of freshly graduated young women tech developers and entrepreneurs came together to launch an initiative that would promote technology uptake by low-income youths in Kenya. The four pioneers, working on a voluntary basis, offer on-site basic programming classes in Dandora, one of the low-income areas in Nairobi. The initiative would later focus on young women who had immense interest in technology but hindered by their modest living conditions. This was the foundation of AkiraChix, an organisation that seeks to inspire and develop a successful force of women in technology who will change Africa's future.
Marie Githinji, a co-founder and one of the outreach directors says the low number of women in technology and lack of focused attention on girls for mentorship and tailored training informed the strategic shift of the organization to focus solely on women. That was the birth of AkiraChix, an innovative organisation that has been inspiring and developing a successful force of women in technology since 2014.
Lavet Adhiambo from Makongeni, an estate in the Eastlands environs of Nairobi, states that AkiraChix has given her a strong knowledge base and skills to be competitive in the male-dominated technology ecosystem. Lavet, who had resorted to selling second-hand clothes after her parents could not afford to pay her college fees, says her life underwent a tremendous change after undergoing the AkiraChix programme.
'Ever since I joined this programme, my life has never been the same again,' attests Lavet.
Lucy Nyaosi's story is no different. Coming from Kisii in Western Kenya, she never imagined she would be where she is now, especially having grown up struggling with school fees. She learnt about AkiraChix when visiting her aunt in Nairobi and successfully applied for the training programme. Lucy is now a well-trained graphic designer, a skill she's confident will open doors for her.
"I feel I can now do a lot to change my community," says Lucy, who also adds how empowered the programme has left her.
Since its inception in 2014, AkiraChix has so far trained 104 young women in technology with twenty-one others set to complete the training this year. Breaking through cultural, economic and other access barriers for women in technology in Kenya, AkiraChix is writing a new chapter by innovatively finding ways enhancing improved connectivity and technology access for women, particularly those in marginalized areas.
Even with the progress actors like AkiraChix have made, the world still grapples with the vast underrepresentation of women in technology. This further risks women being left behind as agents of change and leaders in a rapidly changing global society. A lot, therefore, still needs to be done and possibly to be learnt.