Standing for Social Justice: Grace, the young women rights activist
Grace Adhiambo Orao is a grassroots social justice activist and a young women mediation ambassador, passionate about peacebuilding, young women, and psychotherapy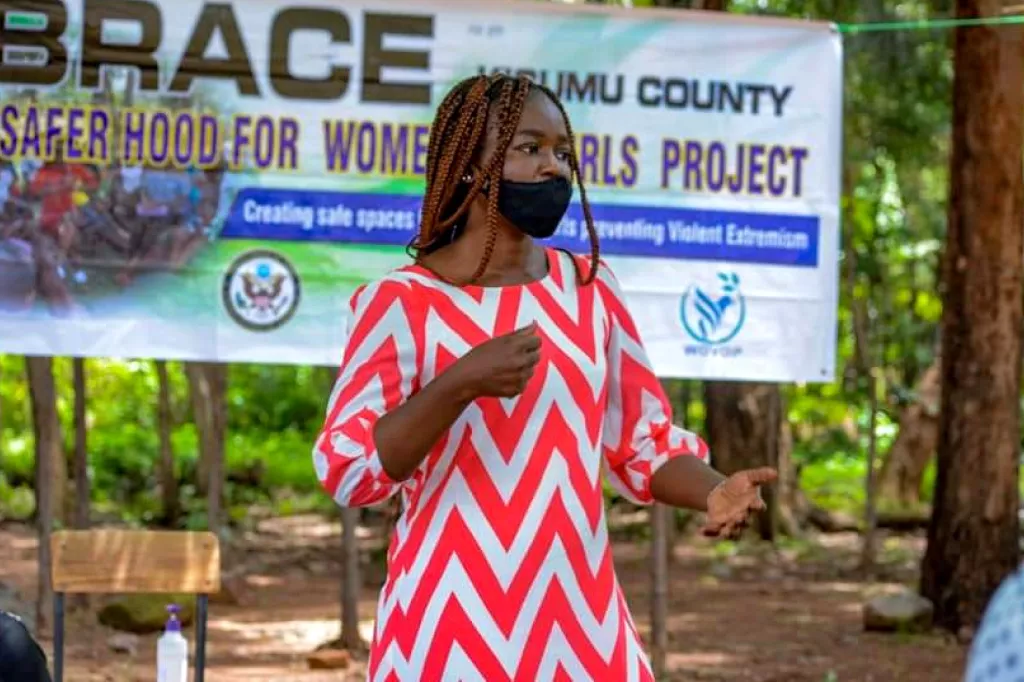 On February 20, the world commemorated the World Day of Social Justice which comes at a crucial moment this year. It assumes much greater importance as the world reeks from the COVID-19 pandemic and its resultant disastrous impacts on economies, human rights, and widening inequalities.
But amidst these challenges, so are there real changemakers. Grassroots social justice activists in their different spheres have been working to promote human rights, access to justice, and, importantly, stand up for vulnerable groups' rights in their communities.
Meet Grace Adhiambo Orao,  a 25-year-old university student and a grassroots social justice activist in Western Kenya. Grace, a young women mediation ambassador, is passionate about peacebuilding, young women, and psychotherapy issues, fueling her drive to support young people.
Please describe your social justice work briefly.
I work for Women Volunteers For Peace (WOVOP) CBO as the Co-founder and Executive Director. WOVOP is a young women-led community-based organization that seeks to support and promote peaceful coexistence and leadership among women and girls through partnerships and volunteerism within Western Kenya's Lake Basin region. Through our work, we envision healthy and empowered women living in a peaceful society.
What cause is the most important for you, and why?
I believe, through achieving inner peace, we attain world peace. Inner peace is mental wellness and the ability to function normally. In conflict and post-conflict societies, the levels of violence are incredibly high, including, for instance, domestic violence. For example, during the Covid-19 peak period, we recorded over 200 cases of sexual gender-based violence on women and girls in Kisumu County alone.  In the minds of these survivors, it is kin to living in a war. These survivors usually suffer from severe Post-Traumatic Stress Disorders (PTSD). Anything can trigger bad memories. I know of a case here in Kisumu, where a young girl brutally killed her father over a small disagreement about money. 
Dealing with trauma is therefore essential to peacebuilding and stability. Without proper handling of trauma, the cycle of violence continues, making peacebuilding and rebuilding difficult. I try to bring the people to the 'here and now' and help them overcome the vicious cycle of violence. 
How do you raise your voice to advocate for causes that matter?
Significantly, my work has been to support girls and women who have experienced or are at a greater risk of gender-based violence. We help them through psychosocial support.
Through a Trauma-Informed Resilience Framework approach, we support, engage, and mentor young women and girls towards a supportive healing community. We also advocate against the harmful practices targeted to women and girls. 
Through community dialogue forums, Girls Talks, and Peace Talks programs, we have held dialogues that have targeted youth and women living in rural and informal settlements. These dialogues have helped the youth and women play a critical role in identifying, mitigating, and responding to conflicts in the community and uplifting their voices to be active participants in the prevention and peacebuilding interventions in Kisumu county.
I derive my inspiration from interacting with young people who often have great ideas to change the world but lack an effective platform to express themselves. I believe platforms such as these facilitate dialogue and meaningful conversation to enable young people to work on the change they aspire. 
Given your long-standing work, what key challenges do most social justice activists face? 
There is a general lack of protection and adequate psychological support to young people who are actively participating in political processes, advocacy, and safeguarding rights, e.g., rights protests. Usually, these young people are subjected to emotional, physical, and psychological harassment.
Additionally, there are numerous threats from the local leaders and some community members from the wrong assumption that when young people are involved in community advocacy, they want to get into a political office. Lastly, there is also a lack of adequate resources hampering effective information sharing with the community.
What accomplishments are you most proud of?
In the midst of 2020, I led a young women team to design and make 30,000 reusable face masks as a Covid-19 response targeting vulnerable communities who could not afford such masks due to harsh economic times. These efforts led to me being awarded outstanding storytelling for Mask Up, Save Lives, where I was top 15  out of 1,500 participants in the Girl Rising, a global campaign for girls' education and empowerment.
Last year I also successfully lead WOVOP in implementing a successful project called Saferhood For Girls and Young Women focusing on building a conducive environment for girls and young women to enhance their safety and well-being while reducing their vulnerability during and after the Covid-19 pandemic.
Currently, I am part of the Global Coalition on Youth Peace and Security steering committee pushing for a 5-year youth protection policy. This is significant as there's a lack of a protection strategy, especially for the many youths participating in political, governance, and safeguarding processes.
What do you think is the importance of social justice in relation to development? 
For me, discrimination based on gender is one of the oldest forms of injustice around the world. Women and girls are the most oppressed group in history, and it gets worse if these women and girls are also part of vulnerable groups, e.g., persons living with a disability. Social justice strives to bridge the gap and empower women no matter where they are.
 
Social Justice Changemakers
World Day of Social Justice is an international day observed every year on February 20, recognising the need to promote social justice, which includes efforts to tackle poverty, exclusion, gender equality, unemployment, human rights, and social protections.
Beginning February 20, the World Day of Social Justice, we will be highlighting eight grassroots Social Justice Activists in Kenya, in recognition of their immense efforts and impact. These activists are committed to social justice, an underlying principle to promote inclusive development and respect for human rights.