Annual report 2020 out now!
It is not likely that we forget the year of 2020 any time soon. In the wake of Covid-19, civil society actors, ForumCiv included, swiftly shifted to work from home through the digital sphere.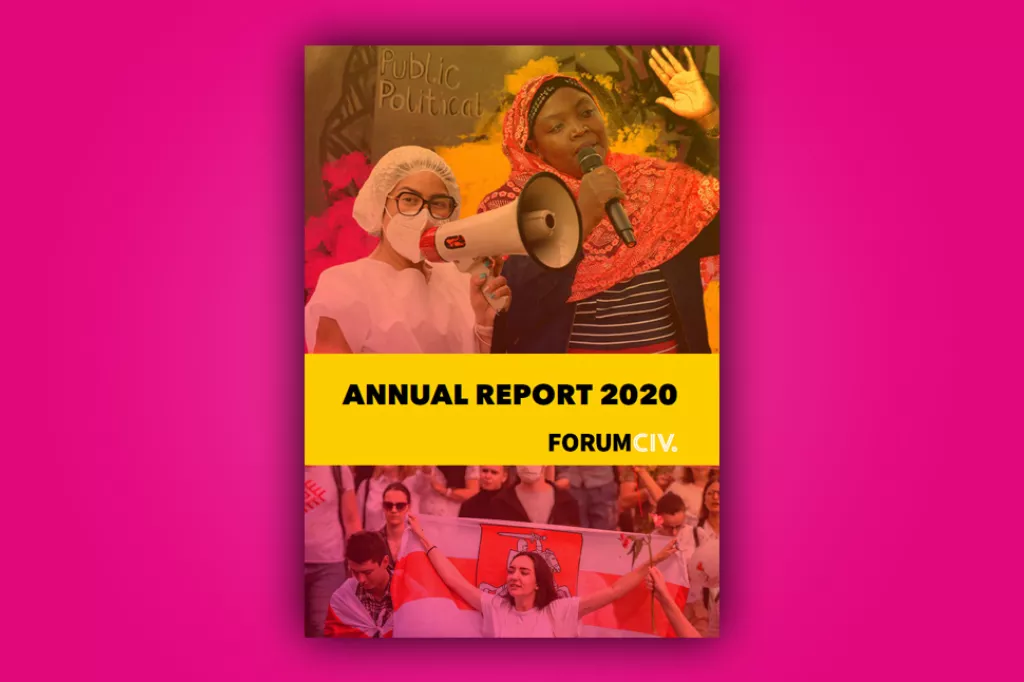 The steps we have taken in 2020 to improve digital systems and routines are vast and have made us take a leap into the future of remote and functional workplaces.
Many of ForumCiv's members attest to increased participation in events and annual meetings due to the ease of digital attendance. Global gatherings were made possible without physical presence and the digital contact with decision makers sometimes brought value of increased intimacy and impact.
On the other hand, the social and economic effects of restrictions have overturned progress and thrown several countries decades back on the developmental scale. Global hunger has increased by 82 per cent compared to pre-Covid-19 and the global wealth gap has widened, while far too many governments took advantage of the pandemic and cracked down on civic rights.
Civil society stepped in to fill gaps of social services where governments failed; spreading information, combating disinformation, setting up help-lines and distributing food, face masks and other equipment.
For some regimes, the disability to listen to the concerns of the people amidst the crisis proved fatal. In Belarus, Lukashenko broke the social contract to the citizenry when dismissing the severity of Covid-19. The following election results were disputed and the start of an uprising where civil society has shown almost unimaginable resistance and resilience.
ForumCiv's partners in Kenya have protested the excessive use of police violence excused by restrictions. In Colombia, continental networking was supported to exchange strategies of organising. In Liberia, rural women came together in a safe manner to claim their right to land, while Cambodia, which had very low infection rates had to battle a huge economic blow due to decreased international trade.
Organising in times of a pandemic has tested and challenged civil society but we adapted to meet the new needs. The year in review has proven the need for a strong civil society. Cross border civil society support will continue to be important and the lessons learned in 2020 will be crucial instruments to regain the losses made.
If 2020 taught us anything, it is that human relations can be deepened even in social distancing and people's solidarity prevails in a world where states are inadequate or unwilling to solve the task at hand.