Belarusian women refuse to "go home and cook borsch"
Weeks go by and the Belarusian society keeps fighting for the right to be respected. Every weekend, more than 100,000 citizens come together in peaceful protests. With small acts of civil disobedience and by challenging social norms, Belarusian women show that they are a particularly important driving force.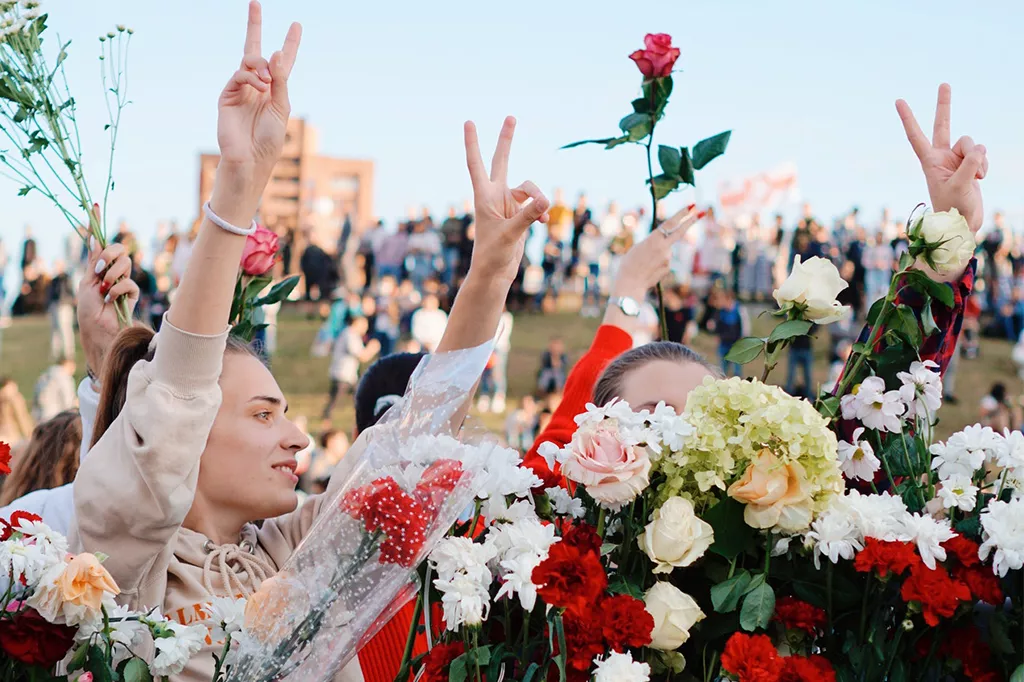 The standoff between the people and the regime has lasted for more than two months. Civic movements in Belarus have displayed impressive passion. In addition to the Sunday marches, students are protesting daily in universities and different  neighbourhoods are organising local community protest actions.  
Women changed the course
The protest movement would have looked different if women had not taken their stand. On August 12th, Belarusian women, dressed in white and holding flowers, came out on the streets in reaction to the unprecedented brutality towards protestors from the police. This was the start of the movement which would change the whole course of the protests in Belarus. What followed was a mass mobilisation of people joining forces against police brutality, which translated into calls for change. 
Not only on the streets have women played a vital role. When oppositional presidential candidates ended up arrested or exiled, women took a prominent role in the presidential campaign. Three women, representatives of different oppositional election campaign, united in support of Sviatlana Tsikhanouskaya, who became a symbol of a new fight for new politics in Belarus.
And women have continued to be a significant driving force behind the protests. The civic movement against police violence has evolved into Saturday Women's Marches. Each Saturday, thousands of women gather and march through the city holding flowers. On Sundays, when police try to snatch protestors off the streets, women try to shield them from the arrest,  bravely grabbing onto the protestors being dragged away in attempts to liberate them.
Creative colour arrangements go a long way
But peaceful marches are not the only way in which women express their demand for change. Small acts of civil disobedience are seen everywhere, often perpetrated by women. The Saturday Quest encourages all women to send photos of the protest movement's symbol – a white-red-white flag –  from various places.  In stores, items such as towels, jackets, and cups are arranged in a white-red-white order. In the same way, laundry on balconies has become a symbol in support of the protests.
74-year-old activist Nina Baginskaya is one of many women demonstrating civic courage. In a viral video, Nina Baginskaya takes a stand by screaming "I am just walking" when riot police try to detain her. She has since become one of the many female faces of the revolution. Her photo, titled "The Mother of the Belarusian Revolution", was included in the electronic version of the Italian magazine Vogue.
Challenging the social norm
But women's protests are not just a peaceful march against police brutality or election fraud – it is an opportunity to confront the outdated and all-encompassing traditions of patriarchy. Lukashenko's claim that "a woman is a weak thing who can't handle the burden of the presidency" has brought forward a women challenger whose election results have shaken his control of society. 
The main message to women is "go home and cook borsch".
Regime media is still trying to portray the protesters as thoughtless puppets who put their children in danger and are led by evil forces from abroad. This especially refers to women, who are being told that they are bad mothers and should be beaten for their actions. The main message to women is "go home and cook borsch". After all, the task of a woman is to protect her home and not to express her opinion at protests. Belarusian women are now challenging this narrative and showing their strength and their voices.  Hopefully, it will lead to political changes in the country, and to more attention being paid to women's voices and rights.