Forum Syd accompanies Vattenfall visit to Guajira region
As part of Vattenfalls inspections on the impacts of coal mining, the government-owned Swedish power company Vattenfall visited several communities at Guajira that have been directly affected by the mining activities of Carbones del Cerrejón Limited.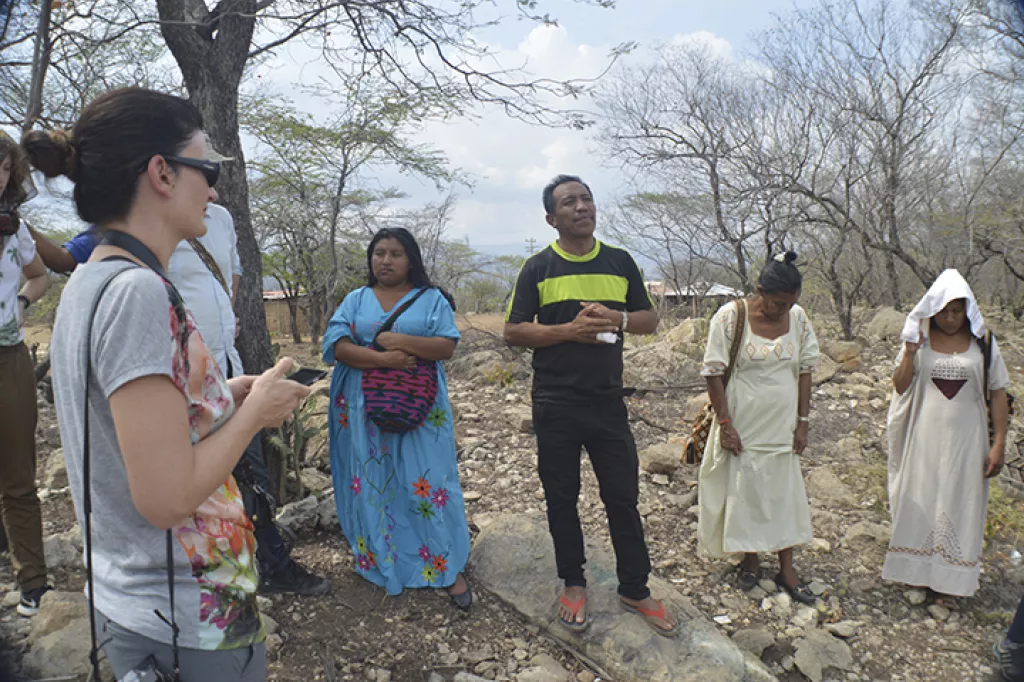 As part of a three week visit to Colombia with the purpose of doing a direct inspection on the impacts of coal mining in the north Caribbean region, the government-owned Swedish power company Vattenfall visited on March 21 - 24 several communities at Guajira that have been directly affected by the mining activities of Carbones del Cerrejón Limited. The visit held by two representatives of Vattenfall also included meetings in Bogotá with high executives of coal mining companies, as well as a visit to the mining region at Cesar.
Vattenfall generates energy for Sweden, Denmark, Finland, Germany, the Netherlands, Poland and the United Kingdom. As a buyer of coal coming from Guajira, the company has committed to establish a follow-up on the coal mining related impacts.
On 2016, Forum Syd published the As black as coal report which addresses coal mining effects, including the impact on local communities which are being affected by water resources contamination, health problems caused mainly by air contamination (due to coal residues as dust), as well as by forced resettlements.
This report is a product of the dialogue between Forum Syd and Vattenfall and which has led to the mentioned visit, supported by Forum Syd on its planning stage and as an actual accompaniment on the meetings at Guajira between Vattenfall and local leaders from some of the communities affected by Cerrejón, one of the world's biggest open-pit coal mines.
"We are impressed by the way Vattenfall has executed the visit," said Claudia Arenas, Manager of Forum Syd Regional Hub for Latin America and the Caribbean. "They were well prepared, with critical awareness and relevant points of view and questions, taking very seriously their mission. They dedicated a significant part of their trip to visit neighbouring areas of the mine and to hear the local habitants, afro descendants and indigenous communities".
Vattenfall had the opportunity to talk with representatives of the communities, and also with representatives of four national organizations (Censat Agua Viva, Cinep, Cajar e Indepaz) which have worked for several years with this communities, assessing and supporting their rights demanding, their struggle to obtain a fair compensation for the damages that have been already caused by the environmental contamination due to the mine, and by the badly implemented resettlements, which have impoverished the standard of living and have fractured socially and culturally the indigenous and afro descendant communities that inhabit this region.
"I would like to say to you that as coal buyers, you should look carefully here, that all the coal that is coming out from here is linked to violations upon our communities, so please tell the company that you will not buy coal that is related to any kind of inhuman or cruel treatment to the surrounding communities", said a leader from one of the afro descendant communities that have been forcibly resettled.
With the information collected during their visit to Colombia, Vattenfall will produce a report with the purpose of establishing some recommendations and an action plan to deal with the problems and conflicts identified and confirmed on terrain. Forum Syd will be attentive to the development of the elaboration of the report.
Vattenfall stands out as an example for other European power companies, with this actions social responsibility that might produce relevant changes and benefits for those implied in the value chain, especially the communities of Cesar and Guajira that have been affected in multiple ways, for decades, by coal extraction.