Kristina Mikayelyan: "Living away from politics is simply impossible for me"
Kristina Mikayelyan is the youngest community politician in Armenia. At the age of 19 she was elected as a member of the Council of Elders in Yeghegis community.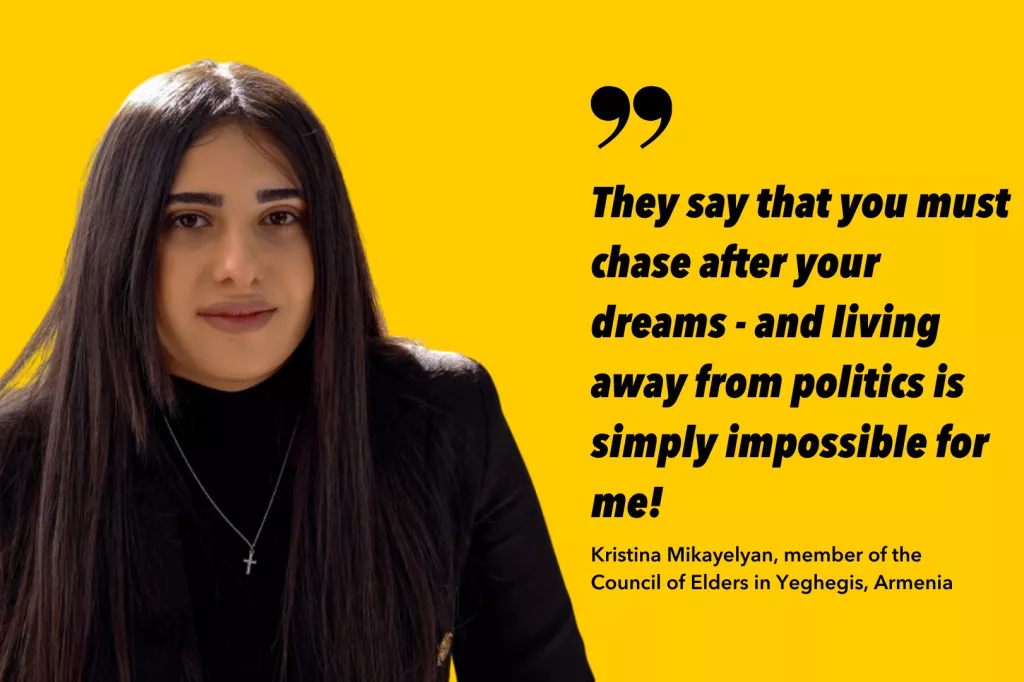 Tell me a bit about yourself
- My name is Kristina Mikayelyan, and I am from Artabyunk, a village in the Yeghegis community in the Vayots Dzor region of Armenia. I am 19 years old and I am studying International Relations at Yerevan State University. I am also a member of the Council of Elders, which is Yeghegis local community council.
When and why did you decide to get into politics?
- Since the age of 16, I have participated in seminars organized by the NGO Sose where we discussed how to solve community problems. Around the same time, I became interested in how the Council of Elders work, how our communities work, what problems they face and how to solve these. This was all very interesting for me, but I still felt that I had some knowledge gaps to fill. Since I grew up in a rural community, where the existing problems were more visible and widely spread among the community residents, I felt that I was one of those concerned by our existing problems.
I began to learn about how the community is formed, who elects the Council of Elders and how this institution can influence the solutions to community problems. During workshops and seminars with Sose, I learned that the community council is not only a representative body, but also a platform for people to raise their voices and contributes to solving problems. At Sose, I learned how to write grant applications and we started to apply for small grants for our local government and resident relations. For transparency, participation and increasing the role of women in politics.
I concluded that the Council of Elders has a great role to play and that since I am a concerned citizen, I should become a member of the Council. They say that you must chase after your dreams - and living away from politics is simply impossible for me. In 2023, I announced my candidacy for the proportional elections as a member of the Yeghegis Community Council of Elders, and I was elected.
What is like to be one of the youngest local council members in Armenia?

- It is really a great pride, but along with it, there is a great sense of fear, because the institution of the Council of Elders has been working inefficiently for a few years due to lack of knowledge.
The counselors are elected by ordinary people, and in favor of democracy, it is not necessary for them to have a higher education. At the same time, the Council serves as an important link between residents and the community and being informed about the laws of local government is important. I have a fear that I might make mistakes and lose my vigilance at some point, but I work on myself, constantly updating myself about the local government, about community service, about our Labor Code and Land Code, and keeping in touch with the residents so that I can overcome these difficulties.
What political changes do you want to achieve in your local community and in Armenian politics on a whole?
- I don't think only of Yeghegis when I'm talking about our community. The community is Armenia, and this community is our foundation. If I am nominated as a member to the Council of Elders, I have the responsibility to ensure positive dynamics, and see not closed but open doors. Everything starts from my home and my community. Step by step I want to find solutions of much bigger problems. I believe that it is from small community problems that big problems arise. With me as an example, my goal is to have a positive impact on many women. There are so many women with great potential, but who live in an atmosphere of fear and shame, who live without appreciating their role in society.
What are some of the challenges for women to get into public life in Armenia?
- There are many challenges, especially in rural areas, where the level of the population is low, and the role of women in politics is not accepted, the community here thinks that a woman's place is in the kitchen and a women should be involved in raising children.
When I decided to announce my candidacy as a member of the council, my relatives, friends, neighbors, everyone said that it is not a young girl's business, but my family was by my side and supported me in every way and was proud that I put my candidacy forward. After being elected to the Council, when I went to a meeting with students at a school, many of them told me that they also want to become a member of the Council of Elders in the future, and even their teachers welcomed that their student wanted to become Council of Elders members.
This article is part of a series of articles and events organized within the Sweden for Eastern Partnership project. Sweden for Eastern Partnership is run by ForumCiv and financed by the Swedish Ministry for Foreign Affairs.
Other recent articles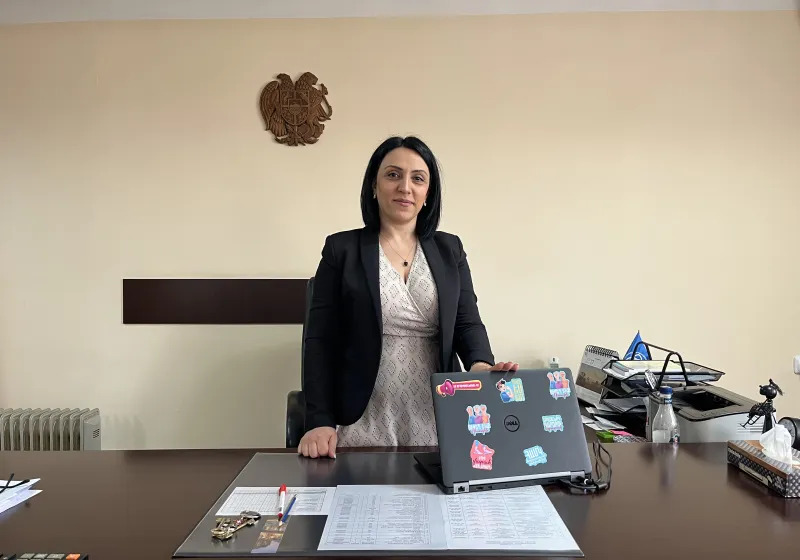 ForumCiv met with Elen Manaseryan, the first female president of the Confederation of Trade Unions of Armenia to speak about her fight for the trade union movement in Armenia.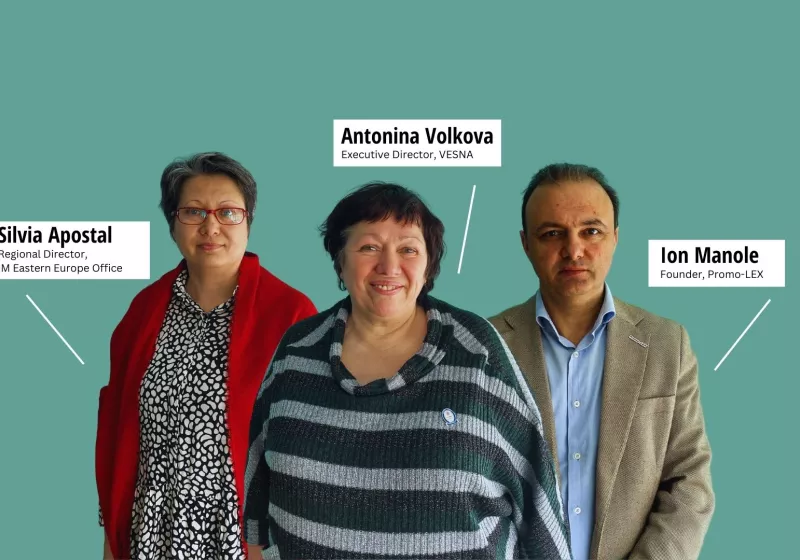 On March 22, thirty-five civil society representatives met in Moldova's capital Chisinau to discuss problems and solutions within the framework of the EU's Eastern Partnership.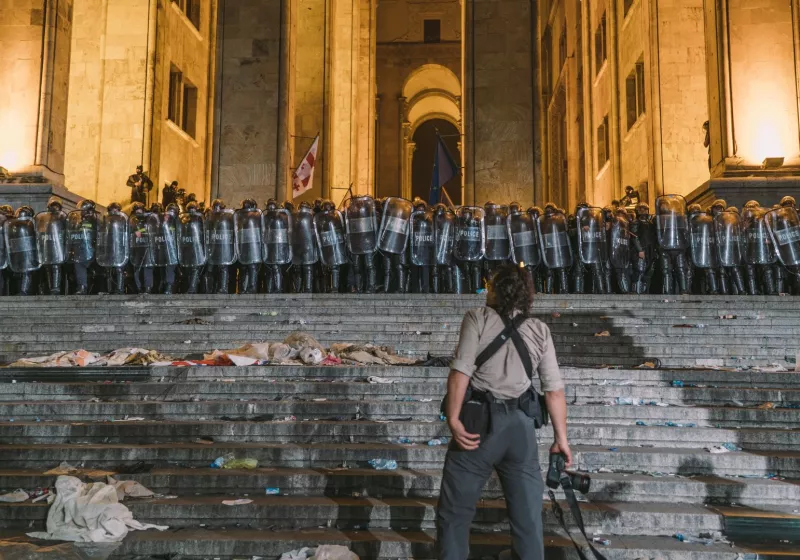 Natia Gvianishvili talks to Eka Tsereteli, executive director of Women's Initiatives Supporting Group (WISG) in Georgia, about the mass-protests in Tbilisi that forced the government to back down from...