Three civil society voices on Moldova's path toward EU membership: "People should understand that the EU supports us"
On March 22, thirty-five civil society representatives met in Moldova's capital Chisinau to discuss problems and solutions within the framework of the EU's Eastern Partnership.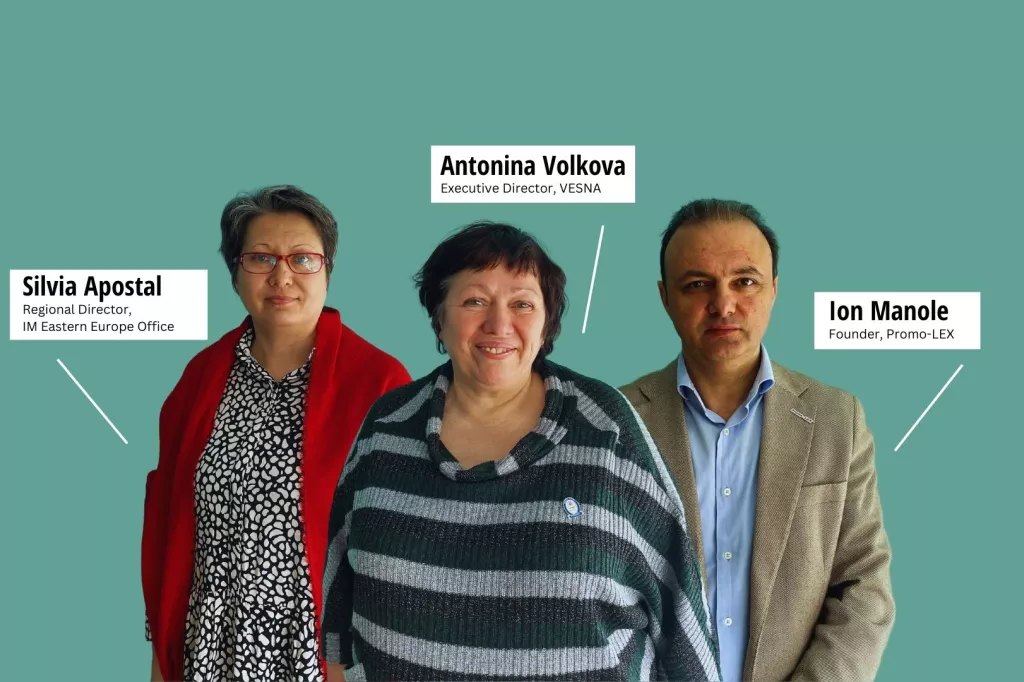 Discussions are running hot in a room on the third floor of Ion Creanga University in Chisinau. Thirty-five civil society representatives are gathered around a large table to discuss how to prioritize among the challenges that Moldova has to solve before being able to become a full-fledged member of the EU.
A window of opportunity
There are still many important questions left unanswered. At the same, there are those in the room who feel that time is about to run out. During a coffee break, I catch up with Ion Manole, founder of Promo-LEX, an organization that for the past twenty years has focused on strengthening human rights in Moldova. He believes that this might be the last chance for Moldova to join the EU. The country is currently governed by a pro-European government with a majority in parliament and receives a lot of support from the international community.
Rapprochement with the EU has been rapid. Moldova - a country that every year wins fine prizes for its main export product – wine, while at the same time being one of the poorest countries in Europe. Situated in a region that for centuries was under either Romanian or Russian control, it became an independent country for the first time in modern history with the fall of the Soviet Union thirty-two years ago. As for all of the countries that until 1991 were controlled by Moscow, both democracy and national consciousness have at times been both fragile and fragmented.
Now the situation appear to be changing. In 2020, pro-EU presidental candidate Maia Sandu won the country's presidential election. A year later, the Party for Action and Solidarity (PAC), which Sanu co-founded in 2015, won the national elections and formed a majority in parliament. Since then, the government has been working feverishly to meet the requirements for EU membership, a process that accelerated with Russia's invasion of Ukraine last year.
Lack of collaboration
I ask Antonina Volkova, who has travelled from Gagauzia, an autonomous region in southern Moldova, to join today's event, what Sweden and the EU should do to support and strengthen democracy and civil society in Moldova. Volkova, the president of VESTA, is a regional women's organization, does not give a straight answer but tells me that one of the main issues for civil society is the divide between urban and rural areas. According to her, almost all knowledge and capacity for how to build a recilient and efficient civil society are centred in and around Chisinau. She also believes that the lack of collaboration and understanding between civil society actors and local administrations in the different regions is a core problem in Moldova.
Lack of cooperation is something that Ion Manole also tells me about. He believes that fast-tracking to fulfil the EU's requirements to become a member state has contributed to making the government less transparent.
"We have been lucky. We are not in the same position as the Georgians. We have a pro-European government that says that it will work as fast as possible to implement the necessary reforms. We also get a lot of support from the EU. However, what we did not expect from the current government is a lack of transparency. They are not transparent, and they do not include civil society in the various processes that are now underway. Because of this, they also make lots of mistakes," he tells me and continues.
"I understand that we are in a very serious situation, that our security is threatened and that there is resistance within the system to reform. But the government must understand that if you don't also engage and involve civil society in these processes, it will create problems. I understand that they are in a hurry, but it is better to do a thorough job from the beginning than having to redo everything later."
Another participant, Silvia Apostal, the regional manager of IM Sweden's Eastern Europe office in Moldova, appears more excited when I ask her how civil society in Moldova can contribute to strengthening democracy and moving closer to a future EU membership.
Our civil society has never before participated in similar discussions, and to be able to participate and discuss what we need from the EU and vice versa is both new and exciting for us.
"Right now there are very interesting discussions on this topic. It is something that we as civil society are discussing during this conference. This situation is also very new for us. Our civil society has never before participated in similar discussions, and to be able to participate and discuss what we need from the EU and vice versa is both new and exciting for us".
Silvia Apostal believes that civil society can help identify quick and efficient solutions to social problems and assist in building bridges between people at local, regional and international levels.
Building bridges
Unfortunately, the big pink elephant in the room that no one wants to talk about is precisely about building bridges, or rather, the inability to do so. Since the fall of the Soviet Union, Moldova has suffered from an unresolved armed conflict.
Already in 1990, a year before the Soviet Union finally collapsed, Transnistria, a region in Northern Moldova, between the Dniester River and Ukraine, declared itself independent from the Moldavan SSR. As a result, an armed conflict between Transnistria and the rest of the country broke out. Two years later, a permanent truce was concluded. Today, Transnistria is recognized by the international community as an autonomous republic within Moldova, but since Chisinau has no power over the region, Transnistria is de facto independent. To maintain its independence, Transnistria is completely dependent on Russian economic and military support.
Russia's war against Ukraine has changed the security situation in Moldova. An alarming factor is increasing disinformation attacks, which continues to create divisions, not only between Transnistria and the rest of the country but within Moldova as a whole. In the last year, the country has seen a surge in anti-Ukraine and anti-EU propaganda, as well as reports on efforts by the Kremlin to topple the pro-EU government.
We need to make people understand that the EU supports Moldova because they don't see this and have no knowledge about what it means either.
Antonina Volkova from Gaugazia believes that it is a problem that even though Moldova receives a lot of support from the EU, the Union's work remain unknown to most people. "We need to make people understand that the EU supports Moldova because they don't see this and have no knowledge about what it means either." She is convinced that if more people understood that many projects that are run by civil society and local administrations receive financial means from the EU, it would motivate more people to get involved in the country's EU integration process.
Not a straight way ahead
It is clear that the road ahead is not entirely straight. There are those in the room who, similarly to Silvia Apostal, think that civil society should focus less on digging deep into discussions about problems and focus more on finding solutions, and then there are those who, like Ion Manole, think that it is better to not race ahead, if this means that the government will make unnecessary mistakes that then will have to be corrected.
What is clear from the discussions is that all participants agree that Moldova's future is with the EU, but that the work towards becoming a full-fledged member state would benefit from better communication and proper knowledge exchanges between civil society and the government. That way, chances are that the EU integration process succeeds in engaging all levels of society, and that everyone who contributes to sustaining and building a stronger democracy in Moldova get the opportunity to make their voices heard.
Written by Amanda Sonesson, project coordinator for ForumCiv's ongoing project Sweden for Eastern Partnership.
This article is part of a series of articles and events organized within the Sweden for Eastern Partnership project. Sweden for Eastern Partnership is run by ForumCiv and financed by the Swedish Ministry for Foreign Affairs.