Where people fear the police more than coronavirus
In parts of Africa, more people are dying at the hands of security agents enforcing measures to combat coronavirus than from the disease itself.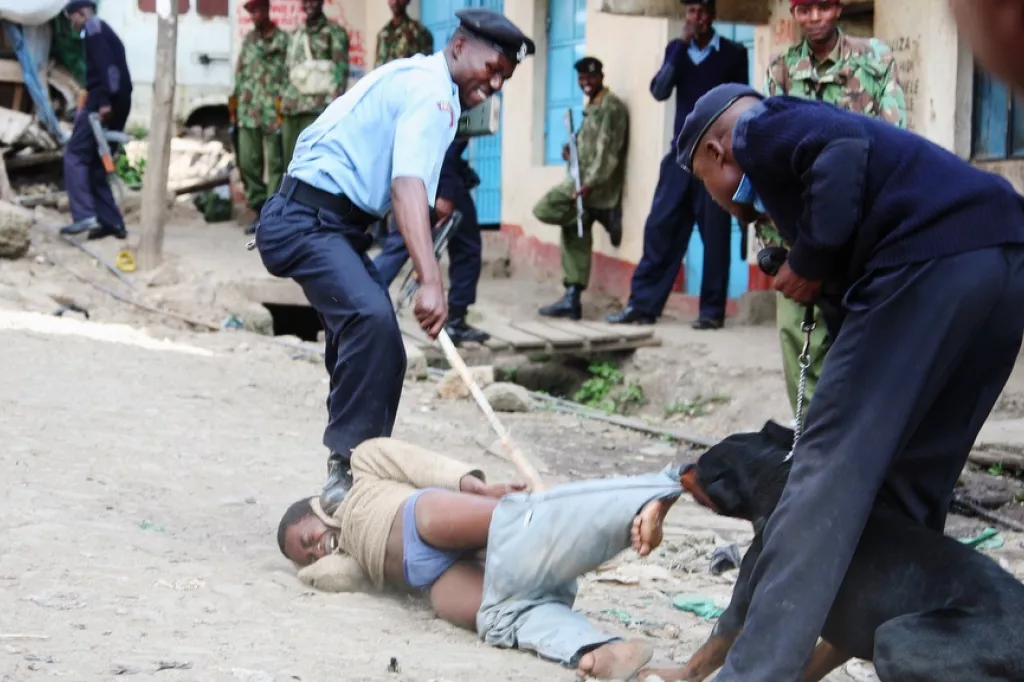 Imagine you are a taxi operator and you receive a call that your pregnant neighbour has gone to labour, and they may need your services to take them to hospital. You quickly respond and help them get to the hospital. On your way back, you encounter a team of police enforcing a curfew as one of the recently installed measures to combat coronavirus.  You fear not because you know your reason was valid and humane. But as you try to explain your reasons to them, they assault you… to death! Tragic!
How about another scenario, where you are a casual worker who has been badly affected by the coronavirus menace. Business is down and consequently, you are confined at home with little to fend for yourself. As the pangs of hunger bite and you can't take it anymore, you decide to go borrow food from friends. You do this barely 30 minutes past the start of the curfew. And just when you step out, you encounter the police, the 'protectors' and 'enforcers' of the law. Before you even explain yourself, these law enforcers batter you and leave you for dead in a ditch. Sad! But luckily you survive, albeit broken and downhearted.
All these imaginative scenarios present a grim and inhumane prospect. Only that they are not fictional! The taxi operator was forty-nine years old Juma Hamisi Kwambirwa, a father of five, who succumbed to injuries sustained after a brutal encounter with the police in Mombasa, on March 27, 2020. Jacob Odhiambo was brutalized by police in Kisumu County when he had gone to look for food on the very same night.
This same narrative goes for Yassin Hussein Moyo, a 13-year-old boy killed as he was playing at his family's balcony. Peter Gacheru, a 46 years old small trader was killed while returning home from work. Ramadhan Juma, David Kiiru Kihara and many more others. These are just but a few examples of many of the victims of the coronavirus pandemic. Only that they lost their lives at the hands of police enforcing coronavirus-fighting measures, and not from Covid-19. Countless others were left injured, many with broken limbs.
As of April 22, Kenya had 281 confirmed cases of Covid-19 with fourteen reported deaths. Significantly, fifteen people had lost their lives due to causes related to police brutality and excesses in combatting Covid-19 since the nationwide night curfew came into effect on March 27, 2020. Fifteen! 
"This pandemic presents a war for us on two fronts. On one hand, we have the police and on the other, we have the coronavirus pandemic," says James Kirungi, a resident of Kawangware, a suburb of Nairobi and one of the areas worst affected by the police brutality. 
When people see the police, they run away faster than they would run from coronavirus
James captures the stark reality of many in Africa who are victims of state security agents meant to protect them and safeguard their rights. 
When President Uhuru Kenyatta announced a nationwide curfew on March 27, 2020, as part of the measures to curb the spread of coronavirus, the Kenyan police employed a militia style enforcement of the curfew. The brutality witnessed even contradicted some of the coronavirus fighting measures put in place like the social distancing advisory. At the ferry crossing in Mombasa still on March 27, 2020, police forced crowds of people to lie down together, in some cases on top of each other, as they beat, kicked, and slapped them for allegedly violating curfew remarkably, one hour before the curfew had even started. One journalist was even assaulted on camera at the same spot for trying to cover the abuses.
Police brutality is a major issue in Kenya with security forces often accused of carrying out enforced disappearances, extrajudicial executions and torture with impunity. According to a recent Amnesty report, Kenya ranked top in Africa in cases of police shootings and killing of civilians, even surpassing countries-in-conflict like Burundi, Chad, Nigeria, Somalia and South Sudan. 
But police brutality in the times of Covid-19 is not a Kenya issue alone. According to Nigeria's Human Rights Commission, police have killed at least eighteen civilians while trying to enforce the state-imposed lockdown to contain the spread of Covid-19.
In South Africa, three people died at the hands of the police in the first week alone of a nationwide lockdown that was announced by President Ramaphosa. The Independent Police Investigative Directorate (IPID) registered twelve cases of "police brutality" during the same week of the commencement of national lockdown. Uganda, DR Congo and even Senegal are some of the countries that security agencies have used brutal means to enforce coronavirus fighting measures.
President Uhuru Kenyatta has twice, publicly, apologized for the police brutality witnessed at the ongoing dusk-to-dawn curfew. Despite this rare apology by the Head of State, cases of police brutality persist. 
These tragic incidences of police brutality and excesses in the name of combatting coronavirus comes at the expense of basic human rights, social justice and respect for the rule of law. And the people may be justified to fear the police more than the coronavirus pandemic.
Civil society's response to human rights violations
Civil society organisations are raising awareness and reaching out to rights holders on what to do when confronted with violence through creative platforms, such as radio and TV programmes, street art and graffiti, social media as well as online forums and training. With laws still limiting people's movements, a lot of these outreaches have had to adapt to the new operating environments. 
Significantly, civil society organisations have responded swiftly in defending human rights and in calling out for the abusers to be held accountable for rights violations. They have largely condemned the violence and police brutality calling for restraint on the part of the police. Wajibu Wetu partners Haki Africa, Inform Action and a group of organisations under Missing Voices Kenya have continued their work of monitoring and documenting cases of police brutality. Bringing these cases to light is part of their evidence-based advocacy towards ending cases of enforced disappearances and extrajudicial killings.
Another significant response by civil society has been cases of public interest litigation in safeguarding human rights. For instance, the Law Society of Kenya (LSK) has moved to court seeking suspension of the dusk-to-dawn curfew and seeking orders prohibiting police from using unreasonable force in enforcing the curfew. They ask that the Inspector General of Police should be held personally liable when police officers use force in enforcing the curfew. The LSK took further action to accuse security agents of interfering with media coverage of curfew enforcement. They call for the justice system and legal representation to be added to the list of essential service providers.